Curricula
Grades 2-3
We start with concepts of numbers and the real number line, concentrating on the sets of natural numbers, whole numbers, and integers. We build computational skills and intuitive understanding of major properties of operations (commutative, associative, distributive). We go into set theory, Venn diagrams, concepts of variable and simple equations, word problems, and the overall language of math.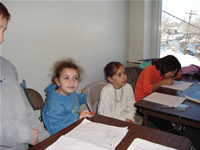 Grades 4-5
We go deeper into the concepts of the second and third grade programs. We work to enhance and increase an assortment of computational skills, placing further attention on the concepts of variables, constants, algebraic terms and expressions, concepts of fractions, decimal arithmetic. We teach equations as logical statements, and emphasize the skills of communicating through math, all the while developing logical and abstract thinking and personal reasoning skills.
Grades 6-9
We concentrate on further enhancing abstract thinking, problem solving skills, understanding of the basics of algebra and geometry. Throughout all of these programs, we focus on developing computational skills, avoiding the use of calculators when possible. Programs in this group include fundamental combinations and probabilities, identical transformations and major algebraic identities, data analysis, and some basic SAT-I related strategies. The more advanced programs in this group include properties of functions, theory of quadratic expressions, inequalities, and other conceptually fundamental topics of elementary algebra and geometry. The goal is to develop a taste for the process, and an ability to relate different mathematical objects to each other.
Grades 10-12
We provide different programs for this group based on the goals and levels of the students. Although we continue to teach all fundamental topics of elementary math, the concentration is on SAT preparation. There are advanced groups that targets SAT-II, 2C, and there are more general programs designed for SAT-I, and SAT-II, 1C. Along with thorough insight into math concepts and skills required for these tests, we make sure that each student is equipped with SAT-specific strategies and knows the most efficient approach to getting the best result.